Region of Waterloo Water Treatment Plan
FPT designs multi-product waterproofing solution for Region of Waterloo Wastewater Treatment Plant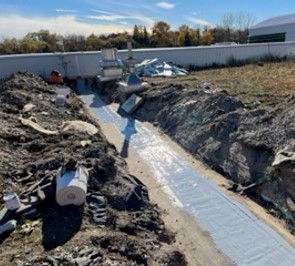 FPT Infrastructure was contacted by a contractor seeking an alternative for hot rubber on a buried expansion joint at the Region of Waterloo Wastewater Treatment Plant. The joint was covered by an existing hot rubber looping detail but was very hard to access. Even more important, reinstalling hot rubber with an open flamed machine is not a good idea on wastewater facilities due to methane and gases in the area.
Imran Khan, regional business manager for FPT, recommended removing the existing looping detail and replacing it with a cold applied, higher performance solution that had the ability to bond to the existing hot rubber.  The solution was infilling the cavity using Mataspan CC4000C (closed cell foam) and coating it with Matacryl LM complete with Dualflex flexible reinforcement.  The Matacryl was designed to lap onto and bond with the existing hot rubber system but provide a high performance, compatible alternative solution. 
"When attempting to complete the downturn areas we hit a snag. We could only excavate 8 feet before we hit the caisson wall making it impossible to access the leaking vertical expansion joint located at the buried, rear of the building.
The solution we came up with was to address the expansion joint from the interior of the building by utilizing the Prime Resins Oakum Rope, soaked in 900xlv and activated with water to act as a dam to help control the leakage and create a dam.  Once the Oakum had set up, the 900xlv was injected (2 parts resin to 1 part water) past the oakum rope (right through it) into the expansion joint cavity behind.  The 900xlv is a closed cell, flexible foam that creates a permanent seal.  This option allowed the contractor to seal the vertical from the interior of the building, even thought the joints were actively leaking.
The multi-product solution is an example of what we accomplish as a material supplier collaborating with owner and contractor. FPT draws on its extensive portfolio of waterproofing projects, and knowledge of product capabilities to custom design a solution that works for each unique project. Here are the installation photos from the Waterloo WWTP installation."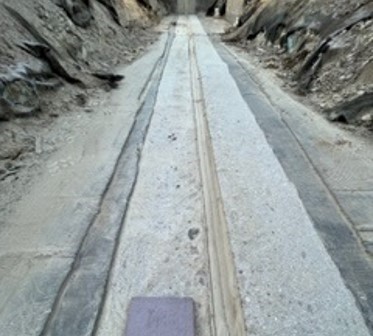 Joint is sandblasted and ground; Mataspan CC4000C closed cell foam install in gap.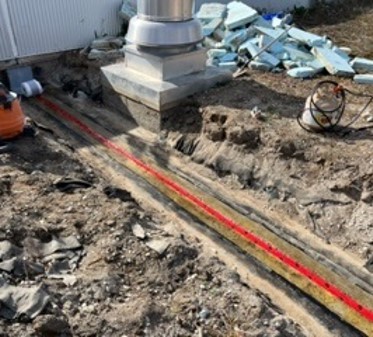 Concrete is primed with Matacryl Primer CM and bond breaker tape is installed on top of the foam joint.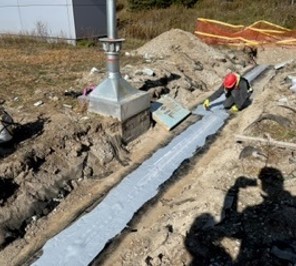 Matacryl Manual LM, highly flexible PUMA membrane is installed in two lifts, with second lift incorporating Dualflex reinforcing fabric. 
The resulting system seals the joint, and flexes with movement of the surrounding substrate and backfill.
The vertical joint, actively leaking, was sealed with Primeflex 900 XLV soaked "oakum" rope and finished with Mataspan CC4000C when the active leak was sealed.