SAMIscreed: quick long-term fix for uneven bike lane
An uneven bike lane in Apollo Beach, Florida, gets a long-term repair quickly with no street closure using SAMIscreed mastic from FPT.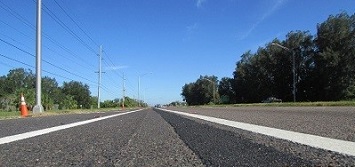 Challenge
Cyclists in Apollo Beach, Florida, contacted the Florida Department of Transportation District #7 maintenance engineer in spring 2017 with concerns about uneven bike lanes along US-41 south of Tampa. The problem started when the contractor of a recent construction project mistakenly striped through the bike lane. The striping had to be removed by milling the asphalt. While the stripe was milled only ¼" in most areas, the bikers did not like the elevation changes.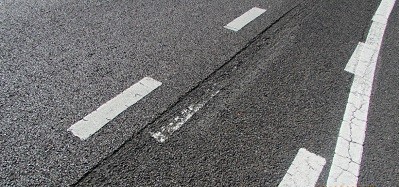 Solution
Officials discussed their options. Options included: 1) do nothing, 2) resurface and stripe the areas of concern, or 3) place a localized repair material. FDOT's focus on the customer eliminated Option 1. Cost eliminated Option 2. This left only one option. 

Several products were discussed. Finally, a Hot Applied Polymerized Bituminous Product was specified.
 
"The cost, speed of construction and longevity weighed in the selection of the patching material," said Fibrecrete engineer Robert Taylor. Officials stipulated FDOT Developmental Specification 331 BMP - Hot Applied Polymerized Bituminous Product and selected SAMIscreed from Fibrecrete Preservation Technologies as the repair material.
 
Project Scope
FDOT put the project out for bid and the low bidder was Gordon Company. The Gordon Co. crew repaired 11,974 linear feet of milled stripe, with average dimensions of 8" wide and ¼" deep. The project required 17,500 lbs. of SAMIscreed and the contract price included MOT. The final price was $2.38/per linear foot with a total project cost just under $28,500.

Why SAMIscreed? 
The contractor chose SAMIscreed because it was a specified material that also provides more structural integrity than traditional patching materials and crack sealers. Its superior performance stems from its components: a highly modified, premium asphalt mastic that is pre-mixed with high-quality granite aggregates. For most asphalt repairs, SAMIscreed is a 10-year or more fix.
 
The product is melted in a Viper or Marathon heater/mixer. This allows for high crew productivity: No more buckets slowing down the crew.
 
Other benefits include:
Application throughout the year
Rapid curing – Traffic returned within 30 minutes.
Cost-effective
Less preparation and smaller installation crews required
Flexible throughout life: withstands vibration and thermal movement
Outcome
The project was completed successfully. The bike lanes were restored to a smooth, level surface with minimal disruption.